SHINING on tour??? These dark and mysterious Norwegians driving the mankind to commit suicide? Cool! And just one date in the state where I live… Isn't it a perfect invitation? But right from the beginning I and Psycho were in doubt if SHINING could convey the emotional and melancholic feeling of their albums. Much more mysterious are URGEHAL, a band and its albums every black metaller is talking about, but its media presence and any sort of info is at zero. Completely different the matter is when talking about the Dutch blackies SALACIOUS GODS and the local support INSIGNIUM. Both bands are crossing ways often enough. Though, it was our very first time that we saw SALACIOUS GODS performing live. Anyway, here a nice old school black metal package is – almost unperceived – hunting Europe and they stopped at a venue called Kultopia in Hagen, another premiere, since me de Cali never attended any show there. I'd say around 80 fans dropped in, what a shame for such great package… The funny aspect was the question at the entry: "are you already 18?" Of course it wasn't meant to us… *lol*. By the way it was Psycho's first ever black metal underground show, and that in 25 years of being a metal head *lol*
Eh… well, it seems more I have visited my last black metal underground concert at times when everybody took it as badly produced and totally crazy death metal *g*… However, it was at least my first 18+ show ;) Not bad for my age I'd say…
:: pics ::
[Dajana] :. INSIGNIUM ~ kicked off this evening with Moorleiche and got in with full force, letting rotate a bottle of Jim Beam around and around (Attention: cliché!/and I thought that only do aging rock stars of 40 and beyond…Psycho) and tried to animate the audience. While playing Der Brief the band heavily failed but didn't get kicked out of the song ;) To finish their entertaining show the announced to play a cover version of an old thrash song, whereas singer Apollyon asked if anyone is old enough to know songs out of these times. Well, I and Psycho were actually tried to reveal ourselves *lol* It was Sodom's Outbreak Of Evil… Ok, this song can only be played in a better way as the original, but they really could have taken another song…
Setlist: Moorleiche, Emotional Suicide, Bunkerkrieg, Gefistet, Der Brief, Der alte Kämpe, Outbreak Of Evil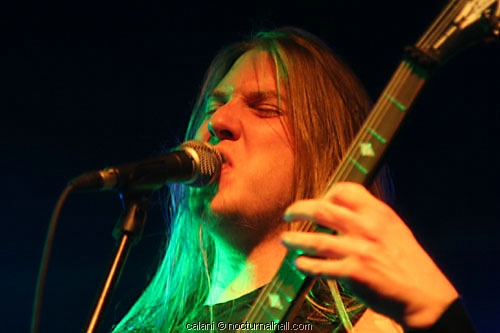 [Dajana] :. SALACIOUS GODS ~ truly raised a massacre on stage, unfortunately first of all at their sound. Everything was sounding pulpy, the bass actually wasn't to hear at all and the snare sounded like an Omo-drum. Too bad. But in return we got finally some funny corpse paint presented, with a singer acting like a poser having his tongue all the time out. I was really waiting that Steakelhorn would bite on his tongue while banging, but he didn't ;) SALACIOUS GODS also played a 40 minutes show and could convince at least technically, although they weren't synchronous at times. For that the band was all the time in action, moving and banging like devils and delivered an aggressive show. Inscrutable why the audience was that lame. By the way, the lyrics to the German song Das Todestal was better to understand than Insigniums lyrics.
Setlist: Knekelvoeste, Sunnevoet, Ieskaold In Piene, Slaughtering Blasphemous Hellforce, Annexation To The Pentagram, Black Bile Desecration, Dooi'n Polka, Testify My Vanity, Das Todestal
[Psycho] :. URGEHAL ~ introduced with the singers Trondr Nefas words: "From the deepest of my heart, I fuck you all tonight"! Nice ;) Sound was now much better, although Nefas guitar was way too quiet. Despite of unbelievably furious black metal attacks URGEHAL were uncannily precise. What was all the more surprising since the singer/guitarist was already a pretty drunken cat (heard something that it was his b-day), losing the plug of his guitar, picking it up and licking it with fervor, sticking it symbolically in his ass before that plug could do its real job again. Besides, the band almost remained in agony on the spot but managed to be downright entertaining at every fucking minute. Must be the matured lyrics… Visually this powerhouse didn't match at all but musically they operated extremely compact and well-rehearsed. With Goatcraft Torment URGEHAL presented a brand new track which I personally (Psycho) liked most. And again just 40 minutes and no encore.
Setlist: The Sodomizer, Matte Blodet Flomme, Mirror Satan, Dead Cold December, Possessed, Goatcraft Torment, The Eternal Eclipse
[Dajana] :. SHINING ~ opened with (quote Psycho): "a turgid bar version" of the song Blue Velvet. What followed afterwards I can only describe as very bizarre. Now it also got clear why this show was 18+. Singer and mastermind Niklas Kvarforth has definitely lost his marbles, was lively snipping and cutting hisself and the bass player – his favor victim. Latter one also got whams, was allowed to enjoy stub out cigarettes on his skin and at the end he got almost strangled with the singer's belt. That all he underwent stoically. Even when he got thrown down he undeviatingly played on. That must be love… Duds of both singer and bassist were so blotted with old blood that one could almost take it like putrefying dead animals. In between Kvarforth was always again taking sips of Jagermeister he immediately snotted into the faces of his devoted fans. The entire show was very cranky but acted quite faked. Only the dramatic mood swings of the singer seemed to be real. For more entertaining variety the Urgehal singer catered. In the meantime he got totally drunk, entered the stage to drop his trousers and begged for "carvings" Kvarforth flatly refused, whereupon Nefas started to riot a little with the empty bottle of Jagermeister and some water bottles. Afterwards he thrice jumped into the audience (I guess he wanted to dive?) and felt on his puss every time. Also very thrilling the fact, that only the menhood was crazy about SHINING. Ok, Kvarforth only focused on men what led to hugging and kissing and various tongue-games. What evil and die-hard black metaller… ;) That's something you don't get to see every day… hehe
[Psycho] One question remains at the end: due to these "framework" wouldn't it been better to relocate this show into a kindergarden instead of making an 18+ show? I mean, this show really was rehearsed and definitely not like spontaneous emotional releases. Especially since Kvarforth acted (on stage) like the biggest rock star ever…
Erm… ok, the music… was – of course – outstanding. Sound was really clean and differentiated, a cool atmosphere and all played by first-class musicians. Hellhammer wasn't there but his (unknown) replacement was likewise great. Songs played came at least from the SHINING albums II till IV. It wasn't that easy to concentrate on the songs, since the announcements weren't that informative either. Kvarforth talked a lot, but more in matter of praising himself or insult is crew and fans. Often placed screams killed some of the atmosphere again, appearing unmotivated and out of place, as at some points on IV – The Eerie Cold. After a little more than an hour SHINING left the stage bitchy but came back without any "we want more" screams and played one last songs.
Setlist (no guarantee, no order): Och Med Insikt Skall Du Förga, Eradiction Of The Condiction, Svart Industriell Olycka, Submit to Self-Destruction, Ännu Ett Steg Närmare Total Ut, Livets Ändhållplats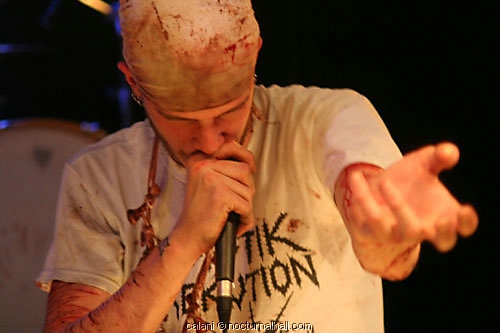 Upshot: An utmost interesting evening. SHINING as far as possible were able to realize on stage what their albums make so unique, while URGEHAL and partly INSIGNIUM positively surprised as well (so Psycho says). Intentional and unintentional show spots were absolutely exhilarating (Duck my sick upstairs, no matter if women or men – Urgehal *lol*). This show was really worthwhile to take this distance and 12 Euro was a fair prize for this entertainment.
The venue emerged as a nice location with a comfortable stage, good sound and light systems, giving room for around 400 people and a nice bar. Cheers!