Don't tell Muenster is becoming a real concert metropolis on its dotage? Why else would a band such as :: SIMPLE MINDS :: make a stop in Muenster of all places? Well, not that I would complain about this… ;) It seems the Scottish rocker intentionally choose smaller venues for their Greatest Hits Live 2014 Tour, to feel the real club feeling again. That's why we had to enter the • Jovel Music Hall • and not the much bigger Halle Muensterland over the road. Great idea, I'm sure the band wasn't that close to its audience for a long time.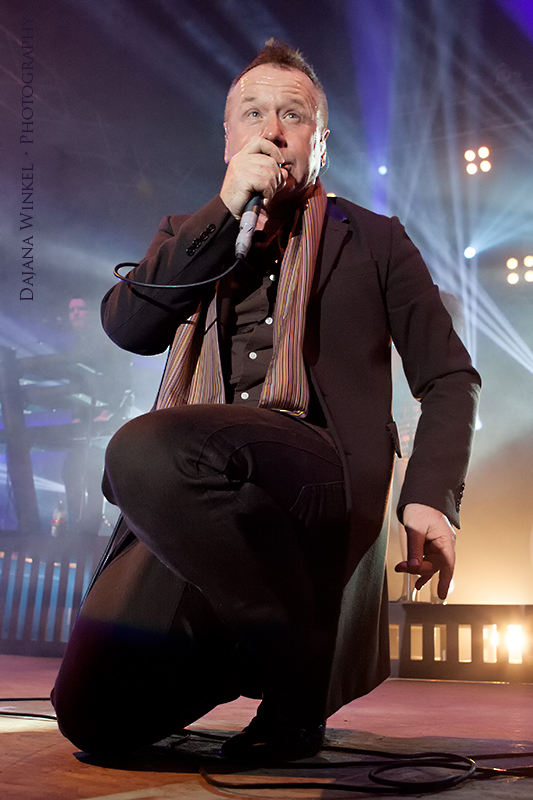 It anyway seems that the 35th anniversary release Celebrate brought a boost of popularity to the band. In the currently very hip Post Rock genre the early work of SIMPLE MINDS is fairly considered as groundbreaking. I suppose that Jim Kerr and Charlie Burchill laugh their heads off when the next hype in this effect gets around. Fact is: SIMPLE MINDS already played Post Rock when no one thought of this term at all. Maybe the trend goes on following the development of the Glasgow-based gentlemen. Then the next big thing should be Power Pop and then Stadium Rock…
:: pics ::
However, it's great to see the heroes of the youth playing live again. The tour was announced with no support and sold out in a twinkling of an eye. I have many friends who had planned to go and where left empty-handed. Well, that's the disadvantage of a smaller venue. Beside a certain manpower shortage at the bars the evening was perfectly organized. Doors opened a bit belated but the entrance was running smoothly. On time at 8pm lights went out and SIMPLE MINDS kicked of a stunning show. After the opening track Broken Glass Park the first hit of the famous days followed with Waterfront - it was really a thrilling time back then. Sound is transparent and differentiated; every instrument gets its room, while the loudness is adequate. Singer Jim Kerr appears to be like the fellow from next door and a slightly introverted entertainer in one person. His gestures are sparing but he loved to flirt with the crowd and never ran short of a wisecrack. And he was definitely in good voice (which he was not always in the past). Charlie Burchill however can't refrain from grinning like a Cheshire cat, during the entire show. Seems not only the crowd took pleasure in the show… ;)
Latter one is, typical for Muenster, quite attentive and pleased but not really enthused and partying. A hymn like Promised You A Miracle gets nevertheless sang along full-throated. With the The Call cover Let The Day Begin the first part of the show ends after approx. 60 minutes. A short break of 15 minutes follows, even raising anticipation, because the "hits" still have to come ;) Why they set in with an instrumental disco version of Speed Your Love To Me I can't comprehend. But hey, SIMPLE MINDS get better with every new song ;) It goes without saying that the old hits receive much more response than the band's new material. My personal highlight tonight was the great and zippy version of The American. Female singer Sarah Brown does not sing on all songs, but she does so she shines and is much more than just a background singer.
At the end of the once again one hour lasting second parts the greatest SIMPLE MINDS hit Don't You (Forget About Me) gets frenetically celebrated, of course, and leaves a happy crowd, enthusiastic shouting for an encore. It does not take long and the SIMPLES MINDS are back on stage with two another hits New Gold Dream and Sanctify Yourself and ultimately closing with the hymn Alive And Kicking. Summary: This was for sure a great and entertaining concert evening with a relaxed atmosphere. SIMPLE MINDS almost considered all periods of the band history, and even more managed to sound homogenous. There are of course a few songs I personally missed (such as I Travel, Up On The Catwalk and Hunter And The Hunted) but at a show time of 2 ½ hrs you can't have them all. I'm sure nobody left the venue disappointed. And I'm much looking forward to the anniversary tour when they celebrate the 40th year ;)
Setlist Part 1: Broken Glass Park, Waterfront, Stars Will Lead The Way, Hypnotised, Once Upon A Time, One Step Closer, Let There Be Love, Promised You A Miracle, Glittering Prize, Let The Day Begin
Setlist Part 2: Speed Your Love To Me (instrumental), Dancing Barefoot (by Sarah Brown), This Fear Of God, Someone Somewhere In Summertime, This Is Your Land, Blood Diamonds, The American, Love Song, See The Lights, Don't You (Forget About Me)
Encore: New Gold Dream (81-82-83-84), Sanctify Yourself, Space, Alive And Kicking