If you ever have seen a SKUNK ANANSIE show and especially front lady Skin acting on stage, you will always come back and not miss a show near your town! It actually does not need a particular reason but putting out a new record is of course the perfect chance to start a new tour ;) With SKUNK ANANSIE a 3-days-Cologne-concert-excursion ends and sees me stop by at • E-Werk • Tonight's show was downgraded from the Palladium across the street but that is not really a bad thing. Now the E-Werk was really crowded with a formidable atmosphere around.
:: pics ::
The Evening got opened by the unknown Australian band :: THE JEZABELS ::, onstage quite an unglamorous quartet consisting of singer Hayley Mary, pianist/keyboarder Heather Shannon, drummer Nik Kaloper und guitarist Samuel Lockwood. Unglamorous because of the constantly boring green light and the motionless performance. Singer Hayley Mary in fact tried to move and to dance a little but it all looked much stereotyped and monotonous. The music itself, listened to without the visual factor was quite enjoyable, offering nice melodies. THE JEZABELS is a band to listen to back home within your own four walls, not really a visual experience.
Setlist: Endless Summer, Easy To Love, Trycolour, Catch Me, Hurt Me, Dark Storm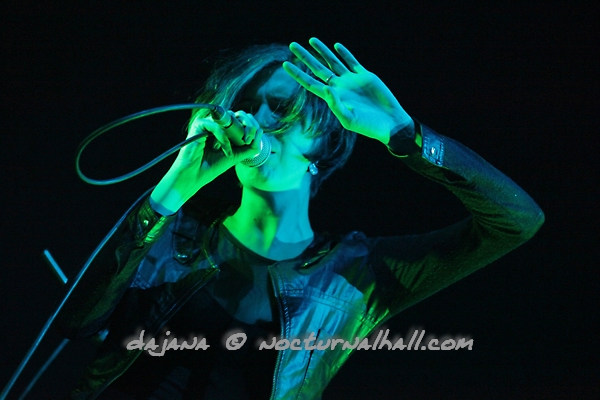 :: SKUNK ANANSIE :: is of course much the opposite. Even if it takes some time till you get what you are waiting for. There are worlds… um… universe between. However, lights out, spots on and The Skank Heads was thundering down the stage. Skin jumps onto stage and masters the crowd and photographers in milliseconds. Skin is literally sugar for the lenses ;) And we got a fantastic light show, and a great sound. It all was so much better than last year's show at the Live Music Hall. Skin rocked the stage, the hall, the crowd and the evening. SKUNK ANANSIE is a band consisting of four members, but it is Skin who always attracts attention, making her mates Ace, Cass and Mark looking pale. Okay, the hooded Cass with his long dreads was quite an eye catcher. The band focused on the brand new record Black Traffic, which I think is not such a strong one. But This Is Not A Game is an awesome song live turning out to be such a powerful hymn. It's the older songs that make the crowd freaking out, so that Skin can surf the crowd during Weak without a risk. Later she even stands on her fans, literally, and walks, borne on hands. Crowdwalking so to say ;) It was an amazing view to see her doing that. When she fell she got caught and was crowdsurfing back to stage. The fans are frenetic and enthused. I cannot stand still either, swing and dance. SKUNK ANANSIE play… I do not know… about 2 hours? They play two-thirds of Black Traffic, many songs from the predecessor Wonderlustre and the classics. And so they do every fucking night. Respect! I just wish I would have been allowed to take more photos, from the balcony for example, to catch the wonderful lightshow *sighs* It leaves a photographer's heart bleeding… Fantastic show!
Setlist: The Skank Heads, I Will Break You, I Believed In You, God Loves Only You, I Hope You Get To Meet Your Hero, Twisted (Everyday Hurts), I've Had Enough, My Ugly Boy, Weak, Hedonism (Just Because You Feel Good), Our Summer Kills The Sun, This Is Not A Game, I Can Dream, Over The Love, Spit You Out, Because Of You, Sad Sad Sad, Charlie Big Potato // Tear The Place Up, Secretly, Little Baby Swastikkka // You Saved Me, Satisfied?