Bind, Torture, Kill - that's the weighty title of the brand new SUICIDE COMMANDO album mastermind Johan van Roy tops the charts again. This time Johan deals with serial killers, getting in their minds for thoughts and motives and delivers again a great and hard EBM album that should fill every dance floor. Supported by a tour he put his Belgian Industrial friends INSEKT – I was really looking forward to – and the techno-tribal-trio THIS MORN' OMINA on the bill. As German back-up Saxon PAINBASTARD joined the trek, altogether a very agile and sweaty billing…
:: pics ::
:. PAINBASTARD ~ kicked off very on time and didn't take any prisoners right from the first second on. Mastermind Alex P. didn't stand still for any second; he rather aggressively rampaged on the stage and tried to enthusiast every single attendee. Unfortunately his voice was so distorted by his vocoder that he couldn't talk any sense to the fans. What was really amusing were his devilish lenses glowing thru the dark atmosphere of the stage. His mate Alex K. again stood almost motionless behind his keys being a starkly contrast to the fidget in the forground ;) With songs such as Nervenkrieg and Todesengel PAINBASTARD made the crowd dancing. 30 minutes of pounding electro beats. Great! By the way… Alex P. was the one afterwards heavily rooting for the following bands.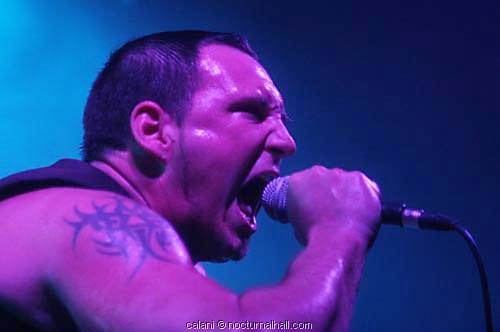 :. THIS MORN' OMINA ~ as for is a quite strange project. This Belgian trio blends Techno, Trance and Ambient with tribal drums, mostly on an instrumental level. There was only one track with singing (at least I remember). Also the stage setting looked quite different: to the right and to the left each a drummer and in the middle Mika Goedrijk behind his mixer, most time ear heads on one ear hanging. As long as the music followed ambient direction I really liked it a lot. But that techno stuff I couldn't stand. Nevertheless, interesting show though.
:. INSEKT ~ switched off the light completely and scurried over the stage by the light of a reading lamp above the text board (doesn't the singer know his lyrics???). This dark ambience didn't keep key wiz Eric Van Wonterghem (played in The Klinik too) from wearing sun glasses, as singer Mario Vaerewijck did too, additionally hooded and haunting the stage. Created sound cascades weren't less dark, partly cold, harsh and clinical EBM/Industrial sounds made the crowd fidget in pleasure. Again singing was distorted, but not that extreme. In between Mario sat down behind his (real) drum kit maltreating it like a maniac. Energy, power and the urge to move were high. A rubber ball couldn't have jumped faster over the stage. That again made Mario to strip off his hoody, revealing his body and charismatic facial expression. All songs – except D.O.A. – came from the upcoming album entitled Teenmachine, to be released soon. Fantastic show, all expectations got fulfilled. Can hardly await to get me hands on the new album ;)
Setlist: Isolated, Teenmachine, Pain Inside, D.O.A., Instrumental, Damage Done, Bambi Fucker, Personal Jesus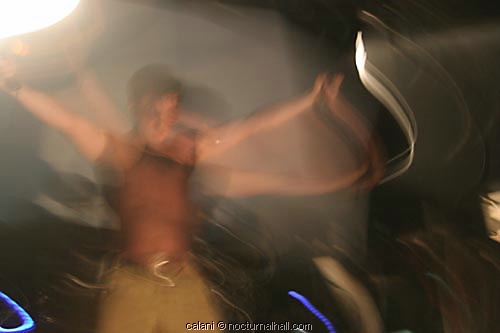 :. SUICIDE COMMANDO ~ already entered the stage on 11pm and got in with the title track of their new album Bind, Torture, Kill, underlaid by videos on a big screen that were quite bloody. As expected live performance was aggressive, energetic and – regarding the lyrical content – very dark. As it's known also a Johan van Roy cannot stand still for a second, using the entire area of the stage to assuage his urge to move. Besides tracks from the current album club crusher such as One Nation Under God, Raise Your God weren't missed out, also a cover version of Tommy Stumpf's Massaker and the SUICIDE COMMANDO hit par excellence: Hellraiser. SUICIDE COMMANDO delivered a solid show, predictable and unspectacular that was quite short. 50 minutes incl. two encores.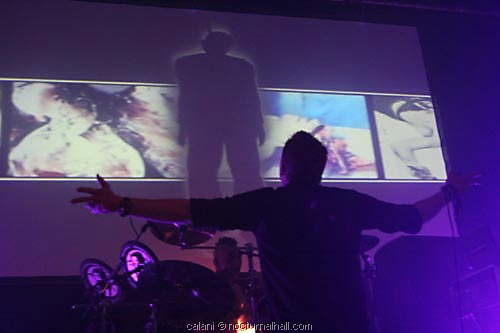 A great show and an event to dance your souls off. All of these singing fidgets were pure powerhouses, enthusing the fans on its own style. Just taking photos wasn't that easy. Not enough lights. And did you ever try to get a jumpin' rubber ball sharp on a photo???