Let there be Drone!
When you can't see the hand in front of your face, when you are able to feel your organs and body parts like never felt before, when even your eyeballs and every root of hair vibrates… then you are at a SUNN O))) show!
SUNN O))) is another band I am a fan of for ages but never had the chance to see play live. Till this day. Yes, indeed, this year's autumn is really grand to me and serves one band after another from my bucket list of bands to be seen live for the very first time. A season of extraordinary live pleasures. And I love it! :)
Of course, SUNN O))) did not play near my hometown. They never did in the past. That would have been far too easy. Nope, for this show I had to cross the border towards Nijmegen to see SUNN O))) at the almost sold out :: Doornroosje ::, a venue I like a lot. It is not around the corner but close enough to make it in one rush. The band is it worth the ride and I shared this attitude with many other fans as the license numbers in the parking area told.
The audience was motley: from the (music & technic) nerds to the normal folks, to the prog and metal heads and the ones digging experimental music – you could meet them all at every age.
:: Pics :: PUCE MARY ::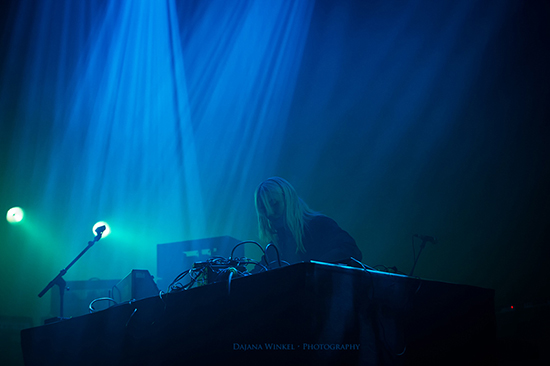 Drone was the order of the evening and the support act :: PUCE MARY :: did not make a difference. She just did it differently.
I never heard of her before. PUCE MARY is the moniker of Danish born, LA based experimental artist, Frederikke Hoffmeier. She is already around for quite some time and has released various albums, EPs, cassettes, splits and collaborated with many other musicians. Ah, it is always a pleasure to discover new music and new artists. Frederikke reminded me a bit of legendary artist Jarboe.
PUCE MARY kicked off the evening slightly delayed and almost completely disappeared behind a huge table full of electronics, loops and effects. Lights were used sparsely, dry ice too, thank Buddha.
Layer by layer PUCE MARY built her sound cosmos of Power Electronics, Drone, Post-Industrial and Ambient. Apocalyptic mood, dark scene. Harsh tones pierced the air like the fingers of light. Ambient sound collages added a cinematic take on noise and vibrant beats a powerful drive. The sound was clear, differentiated and complex structures hearable.
Two times, PUCE MARY came to the edge of the stage for her slow spoken words vocal performance. One song was To Possess Is To Be In Control from her acclaimed third record The Drought.
I listened to The Drought prior the show and I think, the tracks were not played as on CD but improvised/interpreted for live sessions.
Yes, that was indeed an impressing performance. I liked it a lot and the 40 minutes playing time was way too short. Awesome artist! I want more!
Band: Frederikke Hoffmeier
:: Pics:: SUNN O))) ::
Artful noisemakers :: SUNN O))) :: right after let the crowd wait for a long time. Unnecessarily long I'd say, as everything was already built and checked. The mystery of a band does not grow with the time fans have to wait for them. At least it gave chance to everybody interested in the equipment to examine effect boards, amps and cabinets. I personally loved the (signature?) amps with their tubes that started to glow once the band started to play. Yes, the stage setting was highly impressive. The amplifier stacks were threateningly towering and gave a hint what to expect next. And those towers are not there to show off. The term "wall of sound (noise)" gets new a dimension here ;) Many fans were left in awe while gazing at them.
Oh, I was told that SUNN O))) set off the fire alarm during the sound-check (as they did it several times on this tour), but my hopes that they would stop or at least reduce the dry ice did not fulfill. Damn…
As time has come the fog machines were started, four of them to be exactly, and it did not take long until you could not see anything anymore. The trick is: the front stage machines were angled to blow the smoke directly into the first rows. So, if you stood at the side of the stage you could look behind the smoke and get a glimpse of the cloaked silhouettes of the members. I did so and was able to get some shots.
Finally SUNN O))) got onto stage and started with their slow low-tuned doom drones. Thick, brutal, crushing, relentless. They held them long. They changed chords as fast as a glacier moves. Synths from afar added to the atmosphere. No melodies, no rhythms, no structures yet a focused and intricate shaping of the wall of sound. Sounds weird? Yes, it is.
No, despite their clever showmanship, SUNN O))) is no band made to be seen. SUNN O))) is a band to be felt. Their sound is incredibly dense and intense. And loud. But not as loud as I expected. Perhaps I have some really good earplugs. As mentioned above, I felt my eyeballs vibrate, hair stood up on arms and innards quaked. Their wall of noise is an overwhelming physical experience, one that I enjoyed a lot. It might have been too much for some or too loud for others. You need to let go and allow to be absorbed by the noise.
One of the most intense concerts I've ever been was Godspeed You! Black Emperor at the Paradiso in Amsterdam. This old wooden church is a whole resonating body. To feel the sound of SUNN O))) there must be the ultimate experience. Oh fuck, they played there? In March? Gosh darn! I missed it.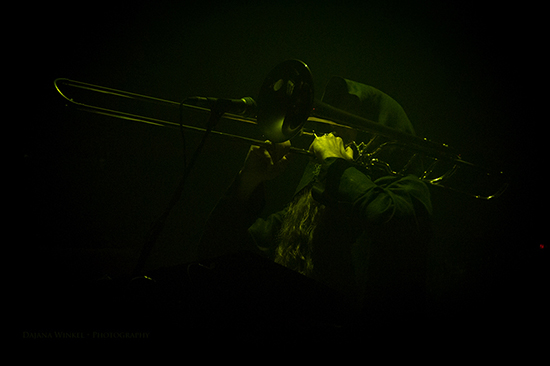 Most fans stood there with closed eyes in trance-like motionlessness. Some moved hectically, some swayed softly. Some tried to film or take photos with their mobiles.
Those, who enjoyed the show with open eyes, could see the druids lifting their arms and hands. Gestures, I guess, to help each other timing the next entry. Billowing dry ice takes its toll ;) Sometimes there was a bottle of wine to be handed round and sometimes there were instruments lifted to the heavens.
Undisputed highlight of the show was Steve Moore playing the trombone at the end of the set. Goosebumps and chills all over!
It was difficult to me to recognize the tracks. I'm sure they played Novæ, Troubled Air and Aurora. Perhaps they play Life Metal in full. The tracks were not played as on CD. They might also have played songs from Pyroclasts (to be released 3 days later). Both records deliver a playing time of two hours. SUNN O))) did not play that long. Approx. 90 minutes I think. Anyway, I would have loved to stay much longer ;)
Indeed, an exceptional and unique experience. A show? Not at all. Rather a transcendental experience. A mass hypnosis? Mind control? Whatever. It was awesome. All without drugs, even if there was something to smell ;)
This show made it into my top 10 of the best shows ever. Thank you Odyssey-Booking and Aleš to make it happen :)
Band: Stephen O'Malley, Greg Anderson, Tos Nieuwenhuizen, Steve Moore, Tim Midyett