That I had to go to Finland to finally see a long headliner show of my favorite doomsters SWALLOW THE SUN… was kinda predictable… on closer inspection… somehow *laughs*
Originally planned as a metal cruise, SWALLOW THE SUN dropped off and made us (lovely Wiebke of Hotel666 and me) booking 5 days stint in Helsinki, including a STS headlining show at Tavastia. Of course, around this date we put a lot of travel and sightseeing plans, other shows and most of all an extended journey through Helsinki's metal clubs & pubs ;)
First day in Helsinki saw us visiting the legendary fortress on Suomenlinna at –13 °C but with a deep blue sky and a setting sun. The evening was booked for SWALLOW THE SUN and their support SILENTIVM.
I had to learn that shows in Finland kick off late (mostly at 10.30pm), so that we decided to enter the Ravintola Ilves first, which is located next door to the Tavastia club. After this long and cold trip we truly deserved this little break. Here we already saw the one or the other known face, while a special cute rabbit prepared itself for the shows at Semifinal (on the courtyard of the Tavastia). *lol*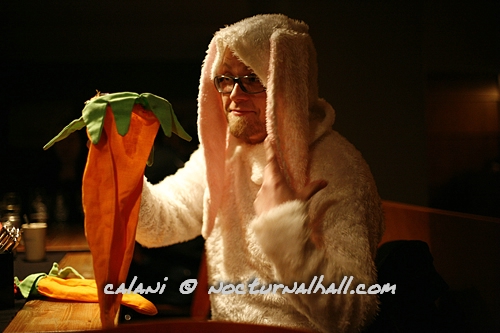 Drinks were fucking expensive, no secret when it comes to Scandinavian countries, but that they impoverish so quickly… well… *laughs*
However, back to the Tavastia. The club filled slowly, at the end 400 people might have attended, enjoying a great evening. We drunk more, got poorer (but not drunk at all) and after the usual talking it was upon time to find a place at the stage.
:: pics ::
Finnish Gothic rockers :: SILENTIVM :: entered the stage and took off at full force and were enthusiastically received by the audience. Singer Riina Rinkinen left a very lively, chirpy and bouncy impression, and also performed this way. As for me her singing could have been more powerful, she proved that she can, without this high-strung pitch of voice. The ballad My Broken Angel plucked heartstrings, seeing Kärtsy of Waltari joining the band on stage completing the duet. Three songs were taken from the brand new album Amortean, set to be released on February 20th. The other tracks came from the predecessor Seducia (2006), plus the classic from the debut record Empress Of The Dark. Yes, SILENTIVM left a good impression. The Finns know how to rock and their good mood is infectious.
Setlist: Leave The Fallen Behind, Frostnight, A Knife In The Back, Forever Sleep, Unbroken,
My Broken Angel, Hangman's Lullaby, Empress Of The Dark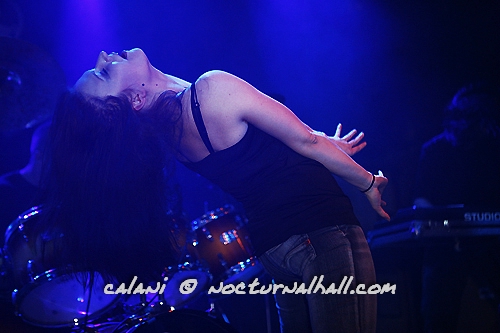 :: SWALLOW THE SUN :: afterwards took it easy, allowing themselves some more time to get the equipment ready, seeing the fans getting more squirrelly with every minute. Finally the Type O Negative intro set in and the boys started with an approx. 10-minutes-extra-dense-and-intensive-version of the normally 35 minutes running Plague Of Butterfly. Yes, butterflies woke up now. Sound was great, powerful and differentiated. Just the singing was mixed down. A couple of fans downright freaked out, with the girls indulging in scream orgies. Singer Mikko stayed cool and was as reserved as always, but this time at least talkative. Also axe-man Marcus let his hair down, performing unusually lively ;) There you easily forgive some rhythm- dissonances, which – as they guys told later – was a result of intensive pre-drinking *lol* Might be the reason for the lively performance too… ;)
Ah yeah, finally a 90 minutes gooseflesh-causing show with songs through the entire SWALLOW THE SUN history. Taking photos isn't the easiest thing, since I'm always tempted to close my eyes, feeling the music and to headbang. With the encore part getting introduced with the Candlemass cover Solitude I put the cam away, freakin' out at Out Of This Gloomy Light ;)
Lights get turned on and ecstasized people looked into each other faces. SWALLOW THE SUN could now start over again, right? Yes! Stunning show!
Setlist: Plague Of Butterflies, Hope, Hold This Woe, Don't Fall Asleep, The Justice Of Suffering, Descending Winters, The Ship // Solitude, Out Of This Gloomy Light, Swallow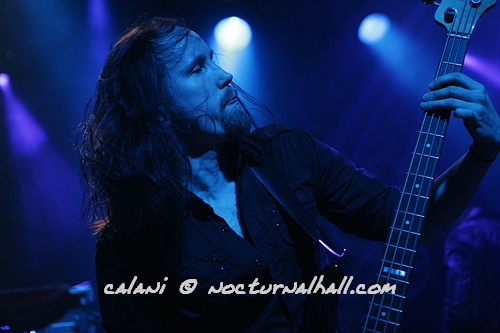 Not a long time after also the lights in the bar were turned on, the music stopped and no drinks given out anymore. The 30 minutes rule in Finnish clubs. As late the start with shows, as early they close the clubs afterwards *hmpf* 2.30 am and the party is over. Taking everything into account we went to the Lost & Found club (let me quote: "…a hetero-friendly Gay Night Club..." *snorts with laughter* WIEBKE!!! And we ain't drunk…), the only club in Helsinki open till 4am… erm… 30 minutes rule… 3.30 am. Anyway, the club was crowded and multi-colored. Strange music, strange people, me and Wiebke shaking asses on the dancefloor, shouting along to songs… ahem… let me put a big and thick cloak of silence about it… Luckily, nobody knew us over there ;)