London - Shepherd's Bush Empire… so many memories ;) It was in 2001 when Liverpool band Anathema (one of my all-time faves) invited me to come over for a show in London together with Porcupine Tree. It was my very first trip to London & UK. Chaos in great profusion and unforeseen aftermath *laughing*
7 years later I'm back at Shepherd's Bush Empire to see WARRIOR SOUL, who have added to special shows after their successful UK tour finished 5 days ago.
» pics «
Show kicks off early seeing :: RIOT NOISE :: entering the stage. Young guys from Bristol tasting the flavor of Rock'n'Roll and hungry for success. They play it loud and with much enthusiasm, while the empire is slowly filling. People take it easy and with reserve. There is talent and potential to sense out. The guys have the groove, as for me, they are still too meek.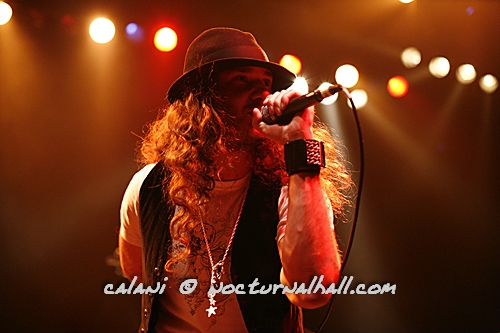 Turnaround. :: BIG LINDA :: do it differently. Progressive Rock, dense, complex, sophisticated, touching on various genres with an obvious love for Grunge and a voice that reminds of late Layne Staley. But singer Rob Alder has more vocal skill. The London guys with the odd band name typically play more introverted than aggressively rocking out. BIG LINDA was a surprise to me and I really liked their performance. Especially Get It While You Can I can't get out of my head again. Great band!
Setlist: Get It While You Can, Black Shirt, Not Mine, Idelu, Windpower
Now a few explaining words: tonight's show is one in a prestigious series of shows presented in association with Classic Rock magazine and the Academy Group featuring classic rock acts performing their classic albums.
First band of this special event was :: WARRIOR SOUL :: playing their debut record Last Decade Dead Century in its entirety. Ok, early curfew and a tight time schedule made the last two songs Lullaby and Inconclusion fell victim to it. The warrior souls looked crumpled and fatigued and it seemed that the Shepherd's Bush Empire (old theater) isn't the right place for a band such as WARRIOR SOUL, that would probably feel much better in an underground club. Well, nothing to complain for me: big stage, photopit and light ;)
However, the Empire was now well-filled. Around 1000 people got quickly infected by Kory Clarke when he kicked of with I See The Ruins. Everybody was singing along and in an twinkling of an eye this magical, gooseflesh-causing atmosphere was built.
Although it was a great show I have to admit that I already have seen better ones. As I heard the one last week at Astoria (which by the way gets closed to make room for a new tube station) was seemingly one of these legendary shows going down in history (*grrrrrr* for not having been there…)
Setlist: I See The Ruins, We Cry Out, The Losers, Downtown, Trippin' On Extacy, Four More Years, Super Power Dreamland, Charlie's Out Of Prison, Blown Away
Also :: GUN :: is one of these classic rock bands, even more than Warrior Soul ;) Freshly reunited with a new singer they completely played their 1989 debut Taking On The World, plus some cover versions and new songs. The gents from Glasgow really came down well and personable. Over an hour they played their souls off. Seems like the guys are absolutely determined to rock again. As for the cover versions of Word Up and Fight For Your Right, well… I prefer the original ones ;) A nice show, not really sweaty, not for me at least, it's probably too soft musically ;) But the fans had a blast, adoring and celebrating the band, and some even burning out themselves. There is a British die-hard fan called "Big Jim", attending almost every show since the very beginning of the band. Traditionally dressed with a Kilt he always catches attention and is allowed to enter the stage during the last song, singing along with Tobi. That's really a great act of friendship! For 2009 a comeback album is announced, so watch out and look forward ;)
Setlist: Money, Don't Say It's Over, Feeling Within, Can't Get Any Lower, Money To Burn, Girls In Love, Taking On The World, Something To Believe In, I Will Be Waiting, Inside Out/So Lonely, Something Worthwhile, Word Up, Steal Your Fire, Shame On You // Welcome The Real World, Seems Like I'm Losing You, Better Days // Fight For Your Right
As usual, people got swept quickly; hardly leaving time for any chats, especially since I had to get me cam back (had to give it off after the 3-song-rule). But contrary to usual custom there was no after party at the Fox because WARRIOR SOUL had to head for the final show in Glasgow I unfortunately couldn't attend. Instead I directly went back to the airport to catch the first flight with another tour package waiting for its final tour show in Hamburg. Means, the next 36 hrs non stop trip was awaiting me. Damn… such a day is way too short… ;)