Earth - Mount Eerie - Ô Paon • Nekromantheon - Dunderbeist - Ribozyme • Hellish Outcast - Manifest - Chton • Execration - Gate To Khaos • Kirkebrann - Vidr • Solstorm - Magister Templi - Cleaver • Noiser Void/Voices by Attila Csihar
As usual, Wednesday is the night of the club shows. It's like a huge warm-up party for all festival attendees, conquering Oslo to the good. 17 bands play in 7 clubs all over Oslo, while Nocturno Culto took over the DJ job at the festival hotel to let an awesome night fade away with great music.
:: pics ::
I first decide for the show at • Victoria • with the tour package EARTH - MOUNT EERIE - Ô PAON. I already heard a lot about these bands but never saw any of them playing live. Perfect chance to broaden my horizon ;) Victoria is a wonderful and lovely Jazz club with a mirrored bar with wood and glasses, brass railings and tufted leather couches and chairs all around. Balconies above and the back wall up with seated galleries, little tables in between with little lamps on it. Very cosy and comfortable if you ask me ;) The center was emptied out giving room for the fans who mostly sat down listening with closed eyes.
:: Ô PAON :: that is French Canadian Geneviève Castrée, a comic-strip artist and illustrator at first but also able to impressively express herself in music too. First thoughts drifted away towards Jordan Reyne, not because she would do the same kind of music, but for the same approach as singer/songwriter. Geneviève, a woman and her guitar, armed with a couple of effects and loops to layer sound, voice and melodies, creating music hauntingly beautiful and fragile, oddly lost in reverie yet uniquely captivating. I loved her enchanting French tongue, although she was fighting a cold and sounding kind of raspy and nasal, but though standing barefooted on stage. La Plus Puissante Du Monde sent shivers up and down the spine. Awesome!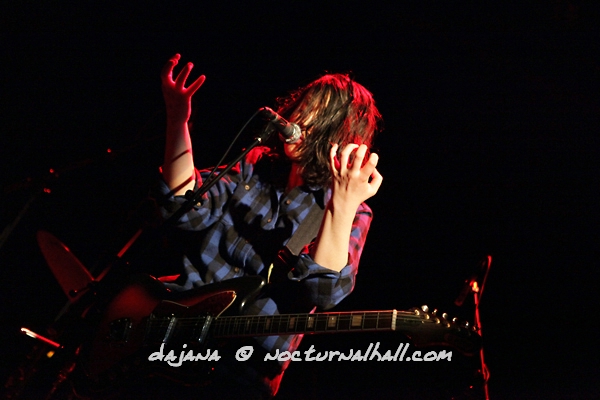 Next up is :: MOUNT EERIE :: the counterpart so to say, a man and his guitar ;) This man is Phil Elverum, a multi instrumentalist, who has worked with many other artists already, here and now presenting his own brand of new music from an upcoming double album to be released in May and October. Honestly, I did not found him that thrilling as the girl before. Phil Elverum was pretty shy, playing much introverted and a little bit awkward in his performance and announcements, though, he was responding witty on a fail, when suddenly a plug was pulled out of his guitar. His play on this 12-string was amazing, and its sound warm and bright.
Hardly that the last tone had faded away everybody rushed close to the stage. People were here to see only one band :: EARTH ::, legendary founder of a special Doom/Drone sound. I missed Angelina on bass and saw her replaced by Karl Blau. There was a strict ban of all kind of flashes, yet there have been a few mobile users doing it and cello player Lori Goldston did not hesitate to give a clap with her bow on the fingers on one of these users. Was much helpful, no one did it again since then ;) She meanwhile was troubled by some sound and/or monitor problems, twiddling knobs on amp and pedals while leaving out her cue every now and then. Much more fascinating it was to watch drummer Adrienne Davies to force beat upon slowness and using a great many of little instruments like rattles, bells and stuff to add extra sounds. My first ever EARTH show and I'm deeply impressed. Outstanding instrumental music, stunning show!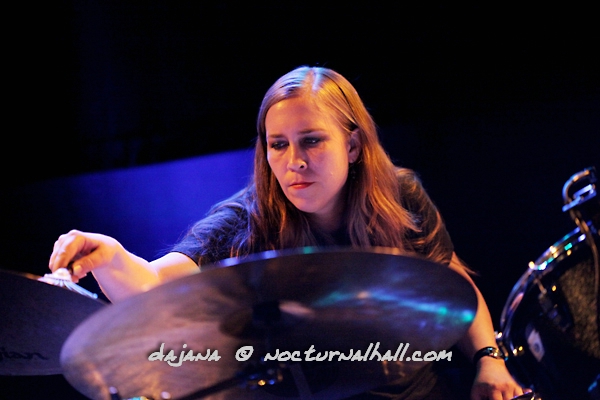 Right after I had planned to switch over to the Revolver club but since the EARTH show ended long after midnight, happenings had already found their final at Revolver too. Besides, KIRKEBRANN had changed their slot and played first, so I would have missed them anyway. Okay, then a knock-off pint at the hotel, preparing equipment for the next day, downloading pictures and writing down some words while watching The Walking Dead on TV and a Cider leading me into my dreams…