Mando Diao - Garbage - Powerwolf - Prime Circle • Iron Maiden - Sabaton - Ghost - Tremonti - The Raven Age - The Wild Lies • Nightwish - Slayer - In Extremo - Apocalyptica - Anthrax - Gojira - Suicidal Tendencies - The New Black
Facing its second edition, the ROCK IM REVIER festival can already look back on a turbulent history. In 2014 massive business problems of the partaking companies around legendary festival Rock am Ring appeared, killed the possibility of a glorious 30th anniversary, and forced a split and all those changes that still echoes. Rock am Ring turned into the Green Hell, and then turned into the ROCK IM REVIER. Having moved from the Eifel to the Ruhr area, (Veltins Arena in Gelsenkirchen), the 2016 edition of the ROCK IM REVIER was announced as open air in Gelsenkirchen again and now moved as a smaller indoor version to the :: Westfalenhallen :: Dortmund. Not the worst solution regarding the forecasted thunder storms.
:: Stories :: Thursday :: Friday :: Saturday ::
:: Pics :: Thursday :: Friday :: Saturday ::
That all sounds as if the RIR2016 was ill-fated right from the beginning, but no, it was not. At the end, the new concept paid off. Although the RIR2016 wasn't as big as its sister festivals Rockavaria and Rock in Vienna, the line-up on those 3 days on only one stage was as thrilling as relaxed. More than 25.000 fans came to Dortmund to see the bands. Of course, IRON MAIDEN made it to sell the Westfalenhalle 1 completely out on Friday with 12.500 fans. But also the Saturday was well-attended. Only the Thursday could have seen more visitors.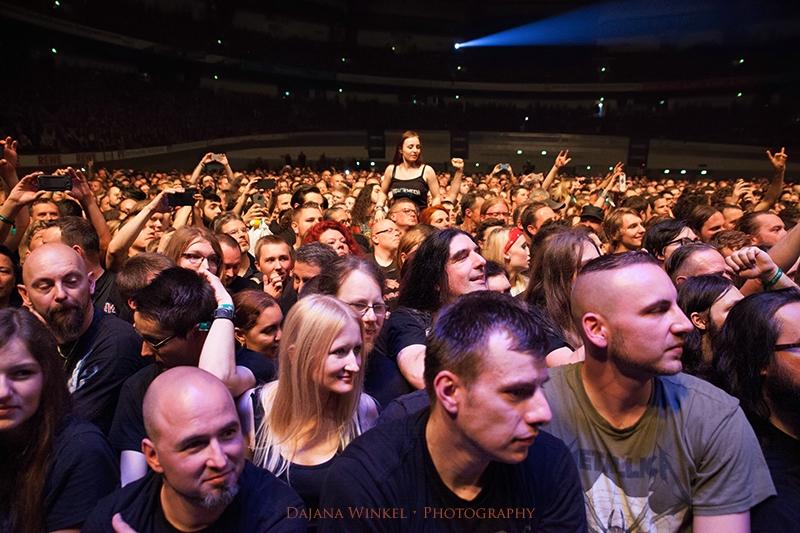 From an organizational point of view everything went smooth and solid. There was some confusion at the beginning, because it was not communicated that fans had to exchange their tickets with wristbands.
There was also some nagging regarding the sold out Friday, because the indoor standing room got blocked and only could be re-entered with a special ticket, pressed into the hands of everybody leaving. So, actually no problem at all. And, people, SAFETY first. The MAIDEN show was sold out and it was really, really packed and crowded!
On Saturday, the doors got opened an half our later (dunno why), more or less on time when THE NEW BLACK entered the stage and had to play in front of an almost empty hall.
Also the parking area got blocked half to build up tents for the next event at Westfalenhalle. Those parking spaces was sorely missed by many and caused some problems too.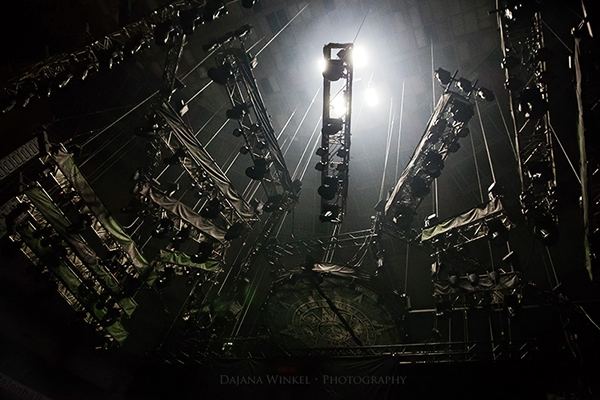 Regarding food and drinks visitors one is generally adequately supplied at Westfallenhallen. There was also additional food and a beer garden outside the hall. Not the cheapest I'd say, but have already experienced more expensive events too. Only the numbered 6 Currywurst slices (no, no entire sausage!) for 3.50 Euro was a brazenness! Doner kebab was 5 Euro, Pizza 4 Euro, beer (0.4) 4 Euro. The IRON MAIDEN Trooper beer even 5 Euro, and one did not get the bottle because of the glass rules. Merchandise prices have been ok.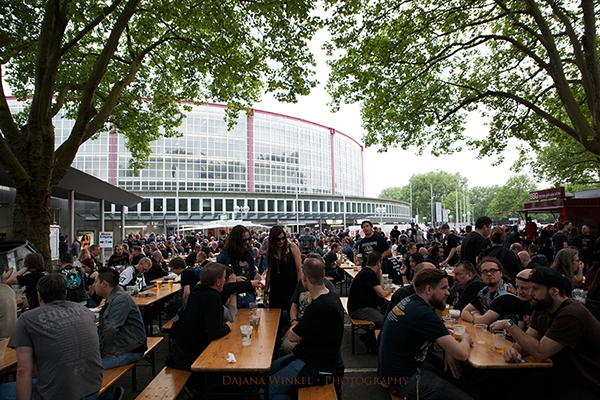 Generally speaking the ROCK IM REVIER festival was more than pleasant. No overload of bands, late opening times, early endings. Haven't slept so much at a festival ;) And every fan using busses and trains had a chance to get home without any problems. Yes, it was a great festival! I had a lot of fun, great company at ROCK IM REVIER 2016. And I hope there will another edition in 2017.