Nightwish - Slayer - In Extremo - Apocalyptica - Anthrax - Gojira - Suicidal Tendencies - The New Black
Such a festival day like the last one with Iron Maiden headlining is hardly to top. And though, the last day of ROCK IM REVIER had still many highlights to offer. The day wasn't sold out but the really well-attended. No bad weather and no finale of the Champions League kept the fans away from the Westfalenhalle 1.
:: Pics ::
But the beginning was… tough. For some reasons the doors opened a half our later, right on time when :: THE NEW BLACK :: entered the stage to play in front of an almost empty hall. Luckily it didn't take long to get the fans in. THE NEW BLACK are new to me too, not musically, but live. Haven't seen them so far. There was a lot of energy and action on stage. Solid show! Eight bands today, tight schedule and one followed right after the other.
Next up is :: SUICIDAL TENDENCIES ::, with Dave Lombardo behind the drums. He looked tired. And I guess he did not go next door to say hello to his former band mates in Slayer. However, also SUICIDAL TENDENCIES seem to brim over with energy. Is there something in the water? Frontman Mike Muir almost ran a marathon, like Brice Dickinson did the day before. Mike just didn't jump that much ;) Again a best of set by the Californian Hardcore veterans, without considering The Art Of Rebellion (not surprising), and - that was surprising - without songs from the new album 13. Hm...
Setlist: You Can't Bring Me Down, Freedumb, Trip At The Brain, Institutionalized, Subliminal, Cyco Vision, Pledge Your Allegiance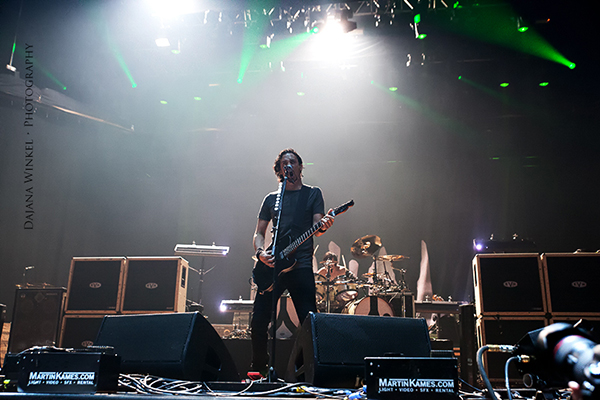 Ha! Finally! :: GOJIRA ::! I was so much looking forward to see them playing again! GOJIRA have a new album ready, entitled Magma, which is set to be released on June 17, and this one already casts its shadow before. And look! Already released new songs Silvera and Stranded got their live premiere at RIR2016. Aaaaahhhhh! Awesome! Love it! Can't wait to get the new album! Sound is crystal clear and extremely heavy, dense and intensive. Wow! Someone must have twiddled a secret knob on the PA. Basses so powerfully thundered out of the speakers I felt queasy. I feel reminded of a Meshuggah show. Same effect. Afterwards I felt like hit by an ICE but incredibly happy :)
Setlist: Toxic Garbage Island, Oroborus, L'Enfant Sauvage, Backbone, Silvera, Stranded, Flying Whales, Ocean Planet, Wisdom Comes, Vacuity
Big four – first strike. :: ANTHRAX ::. Never was a fan of them, actually can't do that much with them. And after the John Bush story they even lost the rest of sympathy, no matter how good or relevant their musical work may be. While waiting for the show to get started we witnessed a stage-hand pasting huge laminated lyric sheets on the monitor speakers, because the teleprompter didn't work. It's quite embarrassing for the old new singer Joey Belladonna singing his own old songs… Well… Didn't help anyway. Ok, bass player Frank Bello was a nice eye catcher while whirling over the stage like the devil himself ;)
Setlist: Caught In A Mosh, Got The Time, Antisocial, Fight 'Em''Til You Can't, Evil Twin, Breathing Lightning, Indians
Finnish cellists :: APOCALYPTICA :: do it much better ;) Unfortunately, many fans decided to stay outside in the beer garden for some cold brewski. Too bad, they missed a great show with a lot of fun on stage and great lights! Downer was the fact that singer Frankie Perez appeared on stage when we were already out the photo pit, so no photos from him.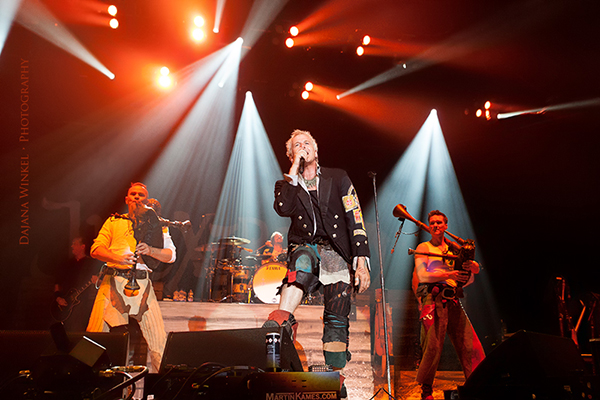 I have my issues with :: IN EXTREMO :: too. Not with the band itself but with the genre. I don't like this kind of medieval music. No matter if that is medieval Folk, Rock or Metal. I just don't like it. But I have to admit, their show was impressive, with a lot of pyrotechnics, confetti, glittering stuff and paper streamers. And IN EXTREMO had its fans, plenty of them, screaming and almost freaking out, singing along every song vociferous. And there was this new song… Sternhagelvoll… turning into a running gag afterwards but also got stuck in my head. Bloody hell! ;)
Setlist: Rasend Herz, Zigeunerskat, Frei zu sein, Vollmond, Himmel und Hölle, Liam, Belladonna, Unsichtbar, Sängerkrieg, Sternhagelvoll, Feuertaufe, Küss mich
Big four – second strike. :: SLAYER :: Oh yeah, something I really like. And something great to get a clear head again ;) I was so in need of that! SLAYER had huge backdrop on stage, looked awesome with bloody red lights. But the quartet looked quite lost on this huge stage. Especially since the gentlemen King and Araya hardly ever move. As dry as a bone they played their stuff totally unimpressed. Only Exodus guitar player Gary Holt rampaged the stage like a berserk. Sound and lights were unexpectedly great! Have already seen much worse shows of them. Relentless, ultra brutal, the most extreme band of the festival. In contrast to all that we had a lot of fun in the photo pit with the confetti and stuff left from the previous band, till two cleaners came and swept everything away ;)
Setlist: Repentless, Disciple, Mandatory Suicide, You Against You, Hate Worldwide, War Ensemble, Postmortem, Raining Blood, Dead Skin Mask, Hell Awaits, South Of Heaven, Angel Of Death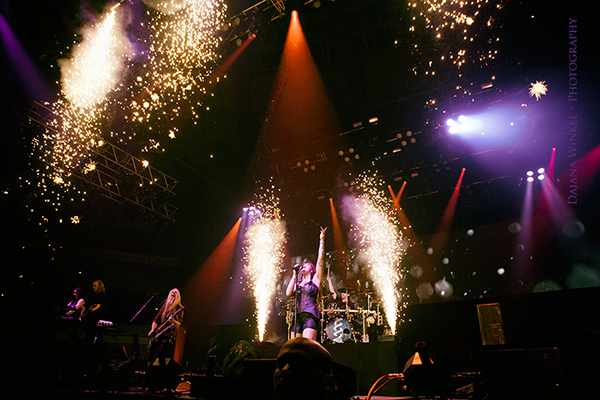 And here we are; the end of the ROCK IM REVIER 2016 is closing in. After Slayer :: NIGHTWISH :: sound like a Pop band (I had the same feeling at Rock Hard Festival with Blind Guardian playing after Cannibal Corpse ;)). Tightened security procedures again due to the pyros. I liked the very first NIGHTWISH records with Tarja Turunen and I very much liked Imaginaerum with Anette Olzon on vocals. But I really can't warm up to their new singer Floor Jansen. I don't like her voice. I don't like how she sings the songs Tarja or Anette were the original singers back then. And I don't like her stage presence. Ok, this is just my personal sentiment. Approx. 8000 fans at the Westfalenhalle told a different story and I'm fine with it.
After 3 days ROCK IM REVIER NIGHTWISH was a worthy finale of a great festival. I personally loved how the festival turned out to be and I would be more than happy to see a new edition in 20017 :) As for now I left the scene knackered but thankful to start working on all those pics and to write all those words on here. Hope you enjoy reading and I hope that those who attended this festival had a great time too ;)
Setlist: Shudder Before the Beautiful, Yours Is An Empty Hope, Storytime, My Walden, Élan, Weak Fantasy, Nemo, Sahara, I Want My Tears Back, Ghost Love Score, Last Ride Of The Day, The Greatest Show On Earth